All racquet sports have seen a surge in popularity within the club industry in recent years. Tennis and pickleball are booming in participation and programming throughout the country, and other racquet sports such as platform tennis, POP tennis and padel, while more regional in popularity, are also generating strong levels of new interest.
This overall growth has put a premium on ensuring that racquets departments are properly structured, staffed and managed. It is no longer enough to just have courts for the various racquet sports available, with minimal attention to their operation and programming. Having sophisticated department structures, designed to be run and staffed by top talent that is properly compensated, motivated and evaluated, is essential to establishing racquets programs that will attract and retain the growing segment of members who are interested in these activities and see them as key to making a decision to join and/or stay at a particular club.
Here are some of the questions and answers for key issues that club boards and management should now be addressing:
Q: How pervasive have the other racquets alternatives to tennis become within the club industry?
Because of the nature of the sport (played on a heated court, and the unique pressure of the ball), the growth of platform tennis is still relegated more to states that experience colder weather. The sport is particularly popular—and growing—in the Midwest (Illinois, Ohio, Michigan, Minnesota), Northeast (Massachusetts, New Jersey, New York, Pennsylvania, Connecticut), and Mid-Atlantic (Maryland, D.C., and Virginia).
While there are POP tennis courts in every state, the most participation occurs in California and Florida. With that said, POP tennis is older than platform tennis and pickleball, and isstill gaining in popularity across the country. Like pickleball, the ease of playing POP tennis is appealing, along with the simplicity of setting up a court, relative to other racquet sports.
Because of its origins in Latin America, padel was first played in the U.S. in Florida. It has quickly increased in popularity throughout the country—and is in fact now only behind pickleball in growth percentage—because of its fast-paced and exciting nature and long points.
Q: What new trends are being seen in how clubs are staffing their racquets departments, because of how those departments are expanding in overall participation and embracing the other games that are growing in popularity along with tennis?
We have seen many different staffing models and changes take shape. In addition to their tennis staffs, some top clubs in the U.S. now have a Head Platform Tennis Professional and a Head Pickleball Professional. Sometimes this is the same person, but it's a position where the professional(s) now teach very little tennis because their focus is on growing the other two racquet sports. In many cases, a newly created director of platform tennis & pickleball position has been established as a 12-month role that doesn't teach any tennis at all and pays between $160,000 and $225,000 annually.
Many seasonal operating clubs now wish to move to a full-time, 12-month racquet sport operation. These clubs do not have indoor tennis, but see the value in having an overarching, director of racquets position, filled by someone who is there all year and can take advantage of the growth they have seen and can add increased and consistent member value over 12 months. This trend would not have happened without the growth of pickleball and platform tennis, along with the revitalization of tennis.
Q: Given these changes, how should clubs now structure the organizational chart and reporting structures within their racquets department?
Depending on the club's size, their offerings, and the specific membership, the organizational structure will be different. There are more and more directors of sports or athletics popping up in larger clubs. With or without that position, here are how some high-functioning clubs are now structuring their racquets-related staff: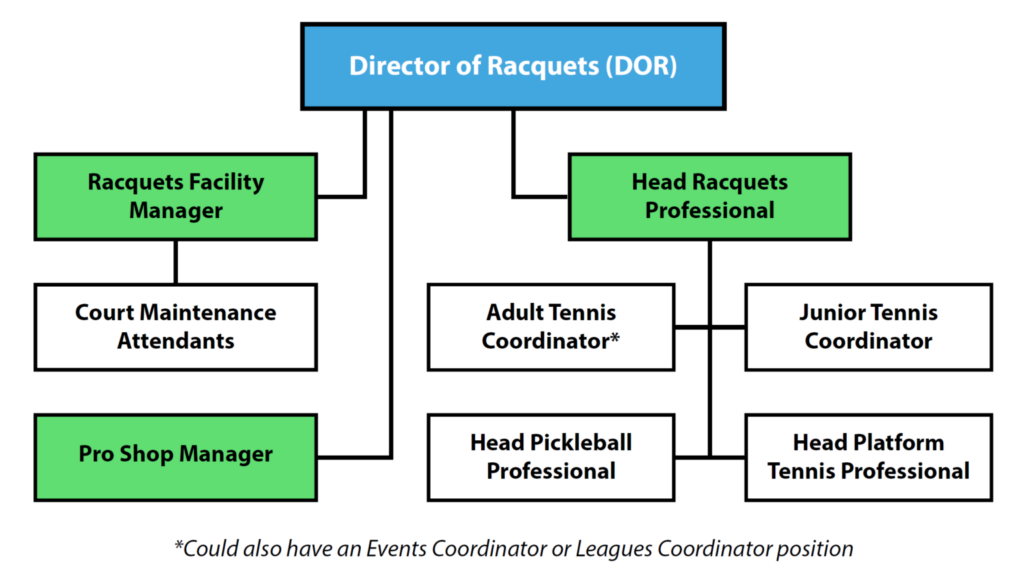 Q: How should roles and responsibilities within this kind of structure be organized and assigned?
This needs to be unique to the club, the needs of the membership, and most importantly, the talent of the staff. Each staff member should have a specific role such as junior coordinator, etc. and be empowered to own their specific area without being micromanaged. They should be set up for success, because that is what they are good at, or the role should be filled by someone with potential to learn a new facet of the operation and grow in their career.
Each year—and not just during performance-review time — the director of racquets (DOR) or head professional should discuss with each team member what their goals are and how their growth can be supported. This is something the best DORs do consistently—and why they have the best team members, because it's clear they are supported, cared for as human beings and not just as employees, and there is genuine interest in their success. When a team member feels that, the potential for the department is boundless, because their output and work will be extremely high. Most people want to outperform when they know their leaders truly care about them as people.
Q: Are clubs now attracting talent from other industries to meet the demand as their racquets departments expand?
Yes—every available avenue is being explored to find candidates for open positions. To staff professionals for any of the racquet/paddle sports, we are now looking to public facilities, resorts and commercial facilities, in addition to within the club industry.
Q: How has the compensation picture changed?
Before the COVID-19 pandemic, DORs, head professionalsand assistant professionals were paid well. With the boom in participation for all racquet sports both during COVID-19 and continuing today, the compensation for DORs has now soared, growing sometimes more than 50%. The components of this compensation have also become more sophisticated. In our experience, and especially recently, DORs at the top operating clubs in America now have a four-pronged compensation structure consisting of:
Base salary (higher than in the past).
Percentage of their own teaching revenue.
Percentage of the head pros' and assistants' teaching revenue.
Annual bonus plan using SMART (specific, measurable, chievable, realistic and timely) goals.
As with any compensation plan, structures like these should be reviewed on an annual basis, and then adjusted as needed to make sure everyone is succeeding; the club (so it makes financial sense for the overall club operation); the membership; the assistants (who now have full lesson books as the DOR shares in the growth of the program) and the DOR.
Q: How have committee structures for racquets operations changed, and what are the best ways to now engage committee leadership?
In the old days, there was a tennis committee and a platform tennis committee (if the club even had platform tennis). Both committees had a member who was a board member and served as the liaison to the club board of directors.
Increasingly, clubs have a racquets committee that encompasses members who play all of the related activities that are offered. This is the simplest structure and one that doesn't bog down the DOR and other club members in too many committee meetings.
Like the recipe for success for all committees, the clubs that operate at the highest level have clearly defined roles for their racquets committee members and use them as an advisory committee for feedback, strategic thinking and planning, but not to make decisions on operations. For example, while members of the racquets committee may be involved in parts of the interviewing process (depending on the position), they should not be the final decision-maker on candidates who will report to the DOR.
Q: What are current trends for educating racquets department staff members?
The top program is the University of Florida's (UF's) Certification, Director of Racquets. This is similar to the CCM designation for club managers. It is a collaboration between the university and the United States Tennis Association, with both the Professional Tennis Registry (PTR) and United States Professional Tennis Association certifying the successful candidates.
It is now becoming increasingly common—and almost necessary—to have a staff member who is certified in three racquets sports: tennis, pickleball and platform tennis. The PTR calls this its "triple threat" and offers all certifications.
Most clubs are now making education an attraction to help draw new talent to their racquets departments and are creating budgets for all professionals to participate in education, conferences and seminars.
About The Authors
Len Simard, PTR & USPTA Master Professional, conducts all racquet sports, fitness, wellness and GM/COO professional searches for the clients of KOPPLIN KUEBLER & WALLACE. Len is a leader in providing tennis facility consulting, performance evaluations, compensation reviews and solutions to all types of racquets facilities and organizations throughout the country.
Jon Sarosiek, PTR, PPR, PPTR, USPTA Elite, currently serves as the Head Racquet Sports Professional at Farmington Country Club in Charlottesville, Va., and is one of only 200 professionals certified in three racquet sports. He was previously Director of Sports & Wellness at Boar's Head Resort and Director of Tennis at Wintergreen Resort. KK&W has partnered with the Professional Tennis Registry (PTR) to provide PTR members, clubs and employers with tools, resources and the opportunity to be the most educated and connected in the business. In addition to Simard and Sarosiek, PTR Career Services also offers the expertise of
Harry Gilbert, PTR, USPTA. Gilbert currently serves as Director of Tennis at Waccubuc Country Club in Waccabuc (Westchester County), N.Y. He also served as Executive Director of Tennis at Albany, a luxury resort community in the Bahamas, for six winter seasons. He served for 14 years on the USPTA National Board of Directors, including a two-year term as National President, and on the USPTA's Florida Board of Directors for 12 years, including a three-year term as President of the Division. He was twice named the Florida Division "Pro of the Year."
Club Trends – Fall 2022