One of the PTR Foundation's missions is to bring tennis instruction and equipment to inner cities and rural areas where the opportunity may not otherwise be available to them.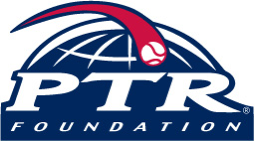 Professional Tennis Registry Foundation
Established in 1979, as the charitable arm of PTR. Each year, PTR members generously donate to the Foundation. These funds are used for various charitable and research activities which are within our 5 categories of giving . Some of these charitable activities have included Boys and Girls Clubs, Adaptive PE Programs, National Junior Tennis Leagues, junior scholarships, seed grants to start community tennis programs and other worthwhile projects. The Foundation supports the PTR Wheelchair Tennis Championships and the annual Special Olympics Tennis Championships. The Foundation also sponsors wheelchair tennis instruction workshops.
Additionally, the Foundation sponsors free lessons and equipment distribution programs, such as Racquet Roundup. If you would like more information on the PTR Foundation grants, click here for a grant application, which will include biannual deadlines for submitting applications, and grant qualification requirements. Also, the Categories of Giving & Receiving is available.
Through the Foundation, tennis programs have been developed in low-income housing projects, after school latch-key programs, at-risk youth programs and wheelchair tennis rehabilitation programs. As the sport of a lifetime, tennis can be beneficial in building a better future for these kids as well as a healthier lifestyle of wellness for all ages.